Celebrate the Season
Gather in community as we reflect on the miracle and meaning of the season. Create new traditions with family and friends, while celebrating the gift of Christmas, Immanuel — God with us.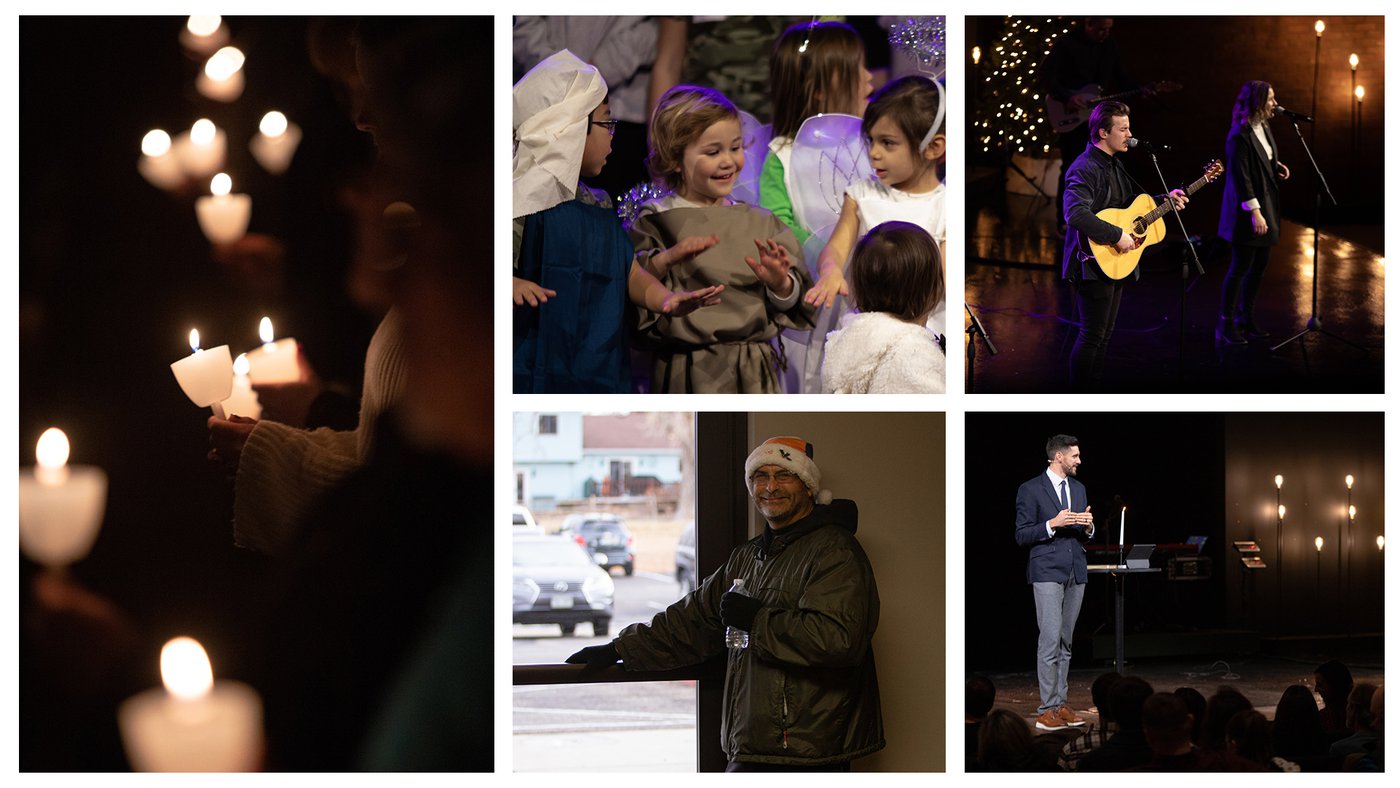 2023 Christmas Season
12/3 Ladies Christmas Dinner | 5-7 PM
Kickstart your Christmas season with this merry evening! The Ladies' Christmas Dinner is full of laughter, good company, and delicious food, all while celebrating Jesus. Cost is $25.
12/10 Kids Christmas Program | 4PM
Join us for a delightful evening at our Kids Christmas Program. This musical presentation from our NXTGEN kids will surely melt your heart and turn your affections to Jesus!
12/12 Students Christmas Party | 6:30-8:30PM
Middle School + High School students, join us for our white elephant Christmas party, where laughter, fun, and a touch of hilarity await!
12/16 Empty Nesters Christmas Party | 5:30PM
Celebrate the Christmas season at our festive Christmas party potluck! Bring a dish to share and a $10 gift for a fun gift exchange game. For questions or to RSVP, contact us at (970) 669-3675 or [email protected].
12/16 Young Adults December Gathering | 6:30PM
Join us for a white elephant gift exchange! Bring $5-$25 gift for a chance to win a prize. Snacks and drinks provided. This event is happening at 7876 Hathaway Lane, Fort Collins, 80528. RSVP at gschurch.info/youngadults.
12/15 Packing at SERVE 6.8 | 5-7PM
12/19 Christmas Toy Outreach at GSC | 6-8PM
Bring your toy donation to GSC for families in need during the Christmas season. Then, we'll pack them up and later help distribute them to the families during our Christmas Toy Outreach.
12/24 Christmas Eve Services
SUNDAY, DECEMBER 24
10:30 AM | 3:30 PM | 5 PM
This Christmas Eve, experience the God who brings lasting joy, unshakable hope, true peace, and unconditional love. We are excited to come together for our annual celebration, including powerful worship, candlelight and more! To help us plan the best experience, we ask that you reserve your seats for in-person services in advance.
CHRISTMAS EVE FAQS
FAQ's
Will childcare be provided?
Yes. Children's ministry during Christmas services will be available for children ages six weeks through five years. Children older than five are invited to attend the service with their families and will need a seating reservation.
Is it free to attend services? Are reservations required?
There is no cost to attend any Christmas at Good Shepherd services, but you can help us plan a great in-person experience for everyone by reserving your free seats.
Will service include candle-lighting?
Yes. There will be a special candle-lighting moment during every service.
Who can I contact if I still have questions?
We are available to answer questions Monday — Thursday, from 9:00 a.m. - 5:00 p.m. at 970.669.3675. You can also email us at [email protected].
12/25 Merry Christmas!
Church Office Closed 12/26-1/1
12/31 New Year's Eve Communion Service | 8:30AM + 10:30AM
Join us as we remember and celebrate God's faithfulness in 2023 with a time of communion and worship as a family.